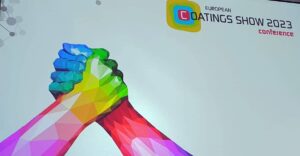 We recently had the privilege of participating in the prestigious ECS 2023 European Coating Show & Conference held in Nuremberg. Our R&D Director Dr. Enver Akin was invited to speak on the latest innovations in removing chromium (VI) from cement-based products to protect human health and the environment. Our sustainable chromium (VI) reducing agents were highlighted as solutions for maintaining a healthy and safe built environment.
Additionally, Dr. Akin had the honour of moderating a session dedicated to testing and measuring coating behaviour, further showcasing our expertise in the industry.
The event provided valuable opportunities to engage with industry experts, discuss emerging trends, and remain at the forefront of the industry.
Our participation in the ECS has further strengthened our dedication to innovation and sustainability. We remain committed to advancing industry knowledge and playing a role in promoting the well-being of our built environment.