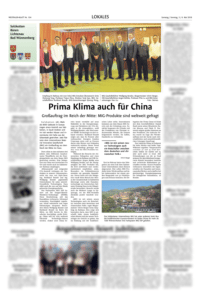 A delegation of Chinese entrepreneurs has recently paid a visit to MIG in Salzkotten from afar to embark on a journey of discovering MIG's innovative construction materials, one of which is the MIG-ESP coating system designed to improve the indoor air quality and energy efficiency of buildings.
Following an impressive tour of reference buildings treated with MIG-ESP technology in and around Salzkotten, including a school canteen, the heritage building Salinator-Penning-Haus, the bakery Lange, etc., an official reception took place at the town hall of Salzkotten. Among the distinguished guests were the Mayor of Salzkotten Ulrich Berger and the Director of IHK – German Chamber of Commerce – Jürgen Behlke. In his welcome speech, Mr. Berger praised MIG's contribution to fostering connections between Germany and China with its one-of-a-kind technology that help save energy and reduce CO2 emissions in the Middle Kingdom.
One of the shiny examples is a Buddhist temple in South China. The 200,000 m2 large property with 1,000 rooms was renovated with both MIG-ESP Interior and Exterior coatings for better indoor climate and a durable, splendid façade that does justice to its historical character.
The event ended on a genial note with both hosts and guests beaming in front of the camera. We were delighted to have our Chinese visitors here at our headquarters and look forward to a continued successful cooperation between us!