MIG's CEO, Wolfgang Bonder, joined a delegation of German entrepreneurs on a trade mission to the United Arab Emirates (UAE) to explore partnership opportunities.
Organised by the Ghorfa Arab-German Chamber of Commerce and Industry and led by Dr. Peter Ramsauer, Ghorfa President and former Federal Minister, the two-day visit enabled delegates to gain insights into the UAE's business environment and hold talks with their Emirati counterparts with a focus on energy and innovation.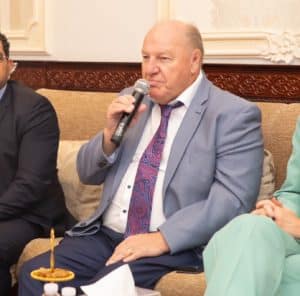 In addition to a packed program of stimulating site visits, industry briefings, meetings with business leaders, business matching and networking events, the delegation was also able to pay a visit to Dubai Expo 2020, where the German pavilion showcases its sustainability-themed innovations.
The event was rounded off by a joint dinner graced by high-ranking and fascinating guests from both sides.
We look forward to tapping into the Middle East market, which is part of MIG's growth strategy – increasing our presence globally so that more people can enjoy the benefits of MIG's innovative energy-efficient technology.
A report on the event can be found here: Delegationsreise in die VAE: Expo, Energie und Innovation – Ghorfa Arab-German Chamber of Commerce and Industry